About
My name is Dave, and I really like making things. I particularly enjoy making electro-mechanical machines and sculptures, also electronic projects.
A few years ago I moved out of my studio in an East London cemetery, and set up a fantastic new workshop with lots of exciting equipment.
My background is a mixture of engineering, art, product design, special effects and a lot of one-off projects...
Have a poke around this website for examples involving machining, metalwork, welding, carpentry, electronics, robotics, fibreglass, pneumatics, programming, graphic design, CAD/CNC, stepper motors, servos, PCB design, lasers etc.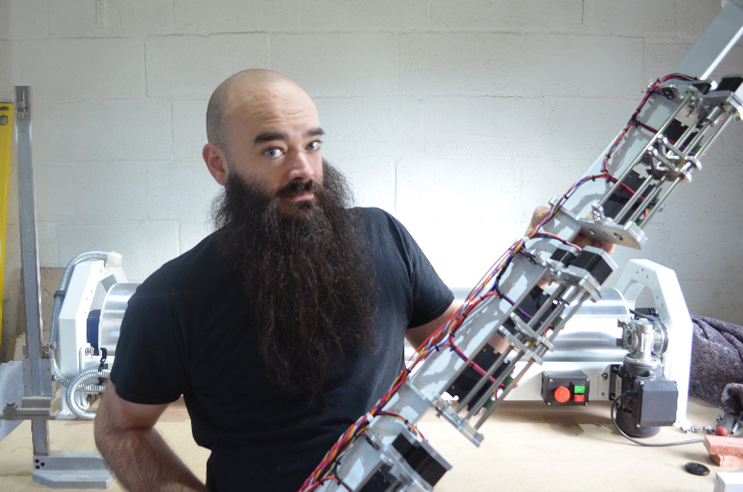 How Nervous Squirrel Ltd. can help
If you have a project in mind, get in touch via the address below. We can then quickly tie down various parameters, including deadline, budget, materials and construction techniques.
The scale of the project isn't a problem - I regularly use a good team of helpful people who can make things, and also people who can film things.
Half of the total payment is paid up front, so that I can begin ordering materials, and so that I know that the client is committed to the project. I don't mind helping with pitches for prospective jobs, but ask that time spent on design work is paid for. Due to a high volume of job enquiries, commitment to a project can only be guaranteed after an initial payment is made - lets get started quickly!
I carry a good amount of parts and materials in stock, and so can usually get a prototype made with a very fast turnaround, but it does also help to get in touch as early in the project as possible. Approval one day earlier can allow for an extra day of leisurely testing and fine tuning at the other end of the project, or even more flashing lights!
I really enjoy what I do, and guarantee that your project will be delivered with an attention to detail and quality above expectations.
Very happy putting together a crate or flight case for large / valuable / delicate items, and so international orders are very welcome.

Nervous Squirrel Ltd. Company registered in England, no. 08379905 VAT no. GB 318835090
The "Nervous Squirrel" name is from a fictional record label used for live music minidisc recordings around 2004.