Real ring modulators - new batch with artwork by Pete Fowler!
CURRENTLY OUT OF STOCK...
These are real analogue ring modulators, the same circuit design as used to create the original voice of the Daleks in 1963. They sound great.
Here is an overview from Ben Wilson:
The ring modulators have been made using carefully matched germanium diodes, housed in a rugged metal case. The units are 'passive', meaning they don't require batteries, but lower signal levels may require a preamp.
Connect a synth, drum machine, microphone or guitar to the input socket, a simple waveform into the 'carrier' input, and the ring modulator will produce interesting raw, metallic, robotic, bell-like sound effects. Sound files below, although I'm sure you can do better!
Price is GBP £65, including postage to anywhere. NOW OUT OF STOCK - email and tell me to make some more if you're interested.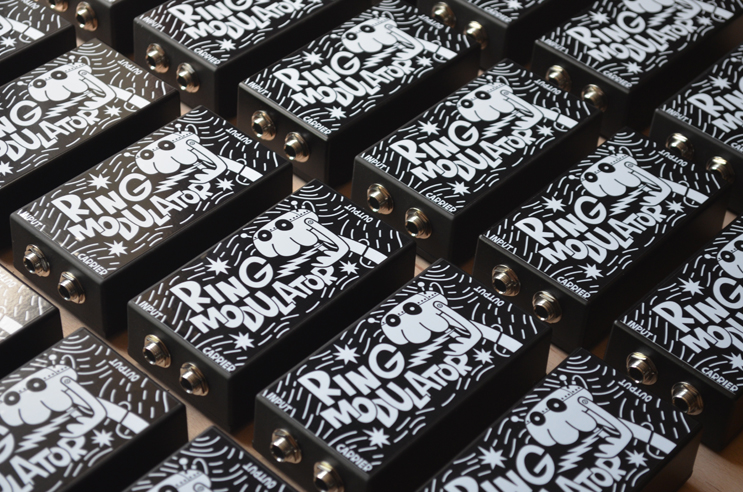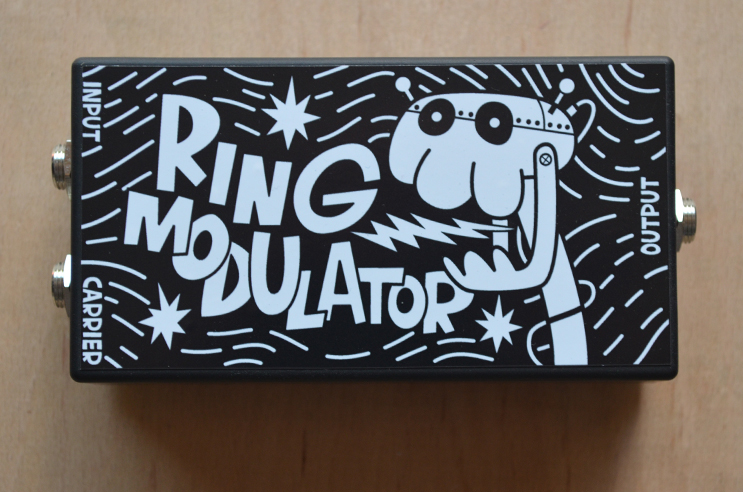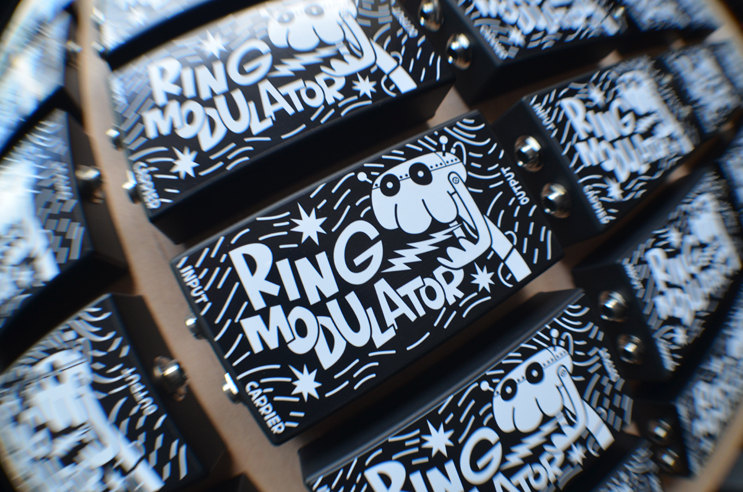 Voice combined with swept sine wave:
Roland TR-808 combined with swept triangle wave:
Roland TB-303 combined with saw wave:
Roland TR-606 combined with slowly swept saw wave:
Sweeping oscillators in both inputs:
According to Wikipedia, the original voice of the Daleks used a 30Hz sine wave as the carrier input.
"In a 2006 BBC Radio interview, [Nicholas] Briggs said that when the BBC asked him to do the voice for the new television series, they instructed him to bring his own analogue ring modulator that he had used in the audio plays. The BBC's sound department had changed to a digital platform and could not adequately create the distinctive Dalek sound with their modern equipment."
I have included some of them in a synthesiser I'm building: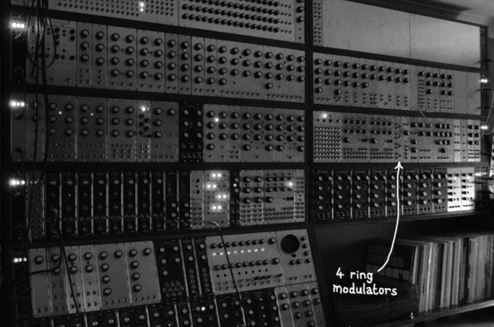 Testomonials - Unprompted! Not made up!
"Dave, I enjoyed the first one so much, I need a second for a live performance coming up in a few weeks! Cheers" C.
"I actually purchased one of your ring modulators previously and was quite happy with it. It works very well and I am really looking forward to having another. Thank you." T.
"Dave, I ordered a couple ring modulators from you before. I'd sure like to get another. I see you're sold out, but it also says, '...although email if you are interested'. I'm interested." T.
"Hi Dave, Just a quick message to say I received the Ring Mod ages ago and it is brilliant. I've found a use for my Chimera synthesis BC8 as the carrier, and my trusty tape recorder as the source and it is fantastic. I felt the need to tell you how pleased I am with it. Many thanks again". C.
"Hi dave, i wanted to follow up on the ring mod and say its really nice quality mate.....very cool........i also wanted to ask if you do custom racking or boxing of devices?" M. [Yes...]
"Hi Dave, just a note to say the Ring mod is superb, thanks for everything. Any other cool effects you have built?, im looking for a fat distortion. Cheers." A. [Commissions welcome - please email...]
"Hi Dave, Got it today, it's great. cheers for posting out so quickly" M.
"...I used a Rolls 'mo2020 testoscillator' as the carrier, processing one channel from my Chapman Stick ...I will definitely discuss future needs with you." C.
"...the nervous squirrel ring mod is built like a tank" K.