Archive page 2 - old stuff!
22nd January 2013
Two self-contained interactive audio systems, designed to last outdoors and survive being repeatedly poked at by members of the public. Battery powered, waterproof (including speakers) and with a large amount of programmable options, these units still had a quick turnaround.

The sound files included were of Spongebob Squarepants and Dora the Explorer. Get in touch if you need a robust custom audio system fabricated.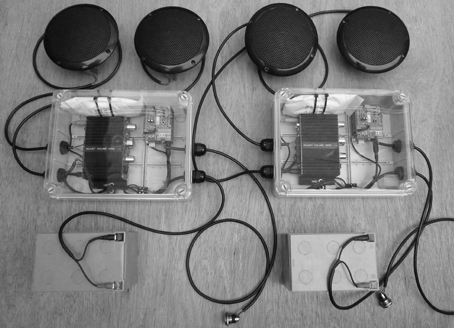 2nd January 2013
On December 31st the BBC broadcast Jools Holland's Annual Hootenanny, which featured one of the pyramid synths being played by Richard Russell, with Bobby Womack, Damon Albarn, and Jools' Rhythm & Blues Orchestra. You can watch the footage here
31st October 2012
Finally visited The Horrors' studio today for the Pyramid Synth handover. This project was completed earlier this year, but has been top secret until today - quite fittingly All Hallows' Evening. Two custom synthesisers: another collaboration with Pete Fowler, commissioned by XL Recordings, more details here!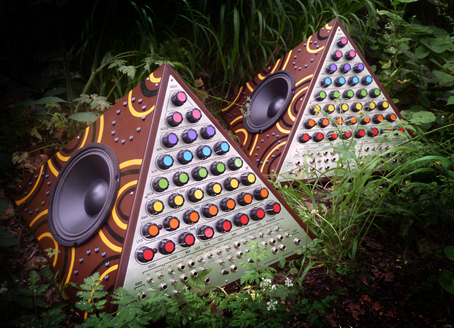 23rd October 2012 - "Amazing Duracell Bunny LED Light Sculpture"
Just finished making a giant glowing bunny for Duracell...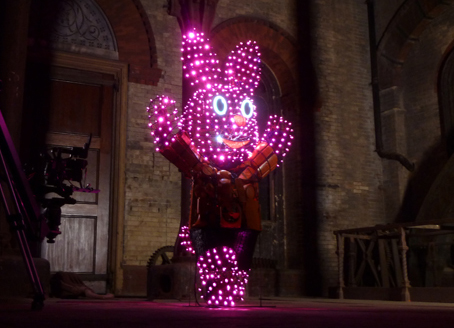 19th October 2012
A small selection of recent projects at the fabulous workshop of Machine Shop special effects have included an enormous flamethrower, pneumatic seesaw, and the execution of a schoolboy: click here
11th July 2012
Two drink-dispensing musical machines for Southern Comfort.

These were part of the Southern Comfort Juke-Joint festival tour, which went on to win "Best Brand Activation" at the UK2012 Festival Awards.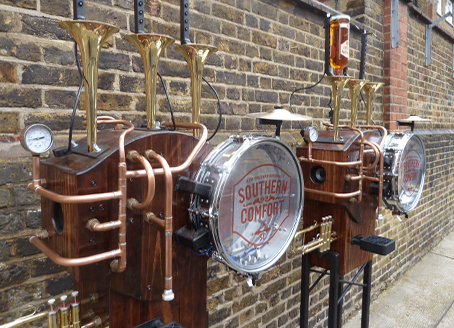 4th April 2012
Wonderful new video of the Badgermin, featuring theremin virtuoso with grand piano accompaniment!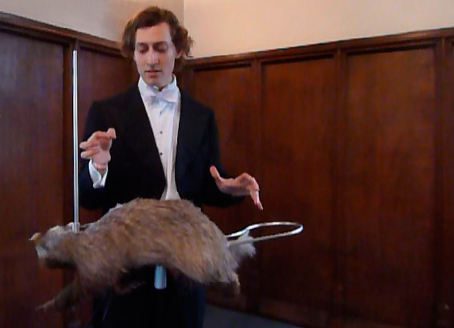 3rd April 2012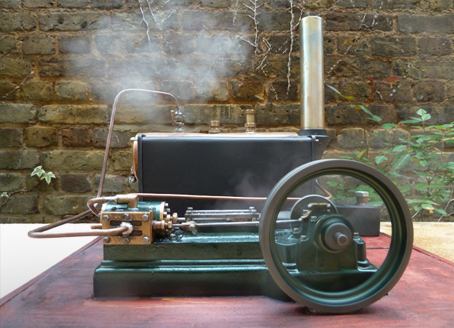 1st January 2012
2nd January 2012
A theremin built into a taxidermy badger - The Badgermin.

Photos and video here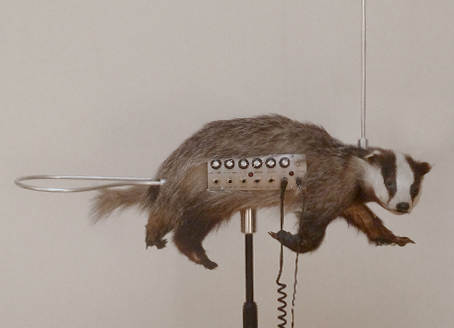 10th December 2011
Sets for TV built this year.
9th December 2011
MIDI-controlled pneumatic drumming machine prototype - photos and video
8th December 2011
Stones made out of expanding rubber foam - photos here
27th November 2011
At long last a few photos of Kinetica 2011

"Kinetica Art Fair is produced by Kinetica Museum and is the first of its kind in the UK. It provides collectors, curators and the public with a unique opportunity to view and purchase artworks from leading contemporary arts organisations and artists specialising in kinetic, electronic, robotic, light, sound, time-based and interdisciplinary new media art."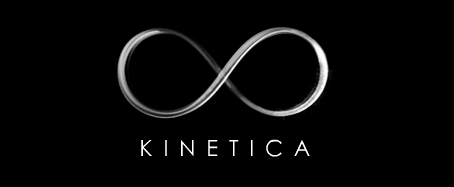 15th November 2011
Collaboration with Pete Fowler - electronic Van Orlax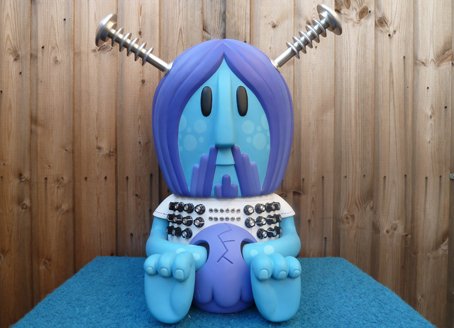 18th June 2011
Interesting conference 2011

IF ANYONE HAS AUDIO / VIDEO / PHOTOS OF THE HACK CIRCUS / INTERESTING CONFERENCE 2011 NINE OWLS IN A BAGUETTE PERFORMANCE PLEASE GET IN TOUCH!

Apologies for the capital letters. Email address is dave (at) this website.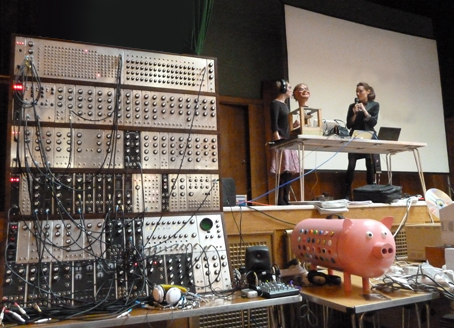 27th April 2011
Calculator Orrery - a mechanical model of the universe represented by rotating vintage calculators.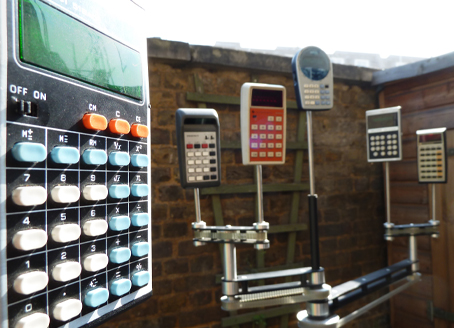 23rd April 2011
16th April 2011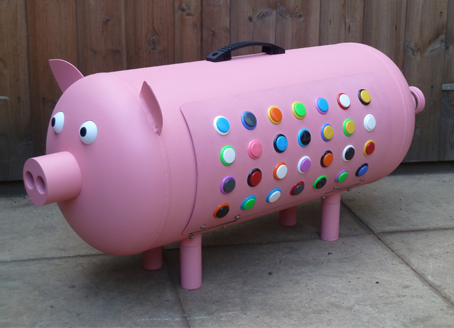 27th January 2011
9 Owls in a Baguette gig last night: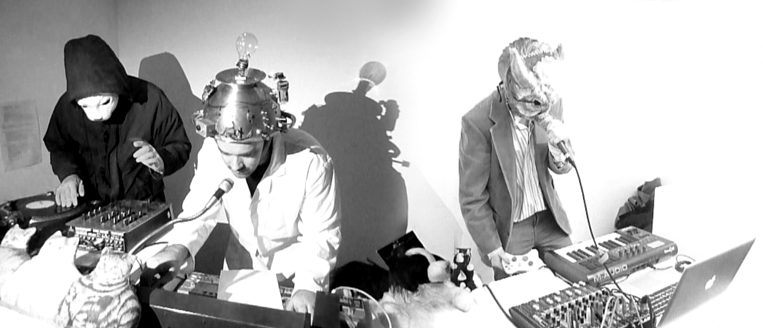 12th December 2010
Photos of Brian the Penguin from the Ether Festival, Royal Festival Hall, April 2010

Also of the musical performance that we did.
6th December 2010
Just finished a monster helpline sound installation for the Ministry of Stories.

You can play with it at Hoxton Street Monster Supplies, 159 Hoxton Street, London, every Saturday and Sunday 11am - 5pm
22nd October 2010
Resonance 104.4 FM programme Un Bruit / Une Melodie: Anne Duffau and Patrick Furness present a show about Sound Art focused on Performances and Installations, with a different guest every week.

This week's guest, David Cranmer.

Listen here


30th September 2010
Radio controlled audio car installation photos from earlier this year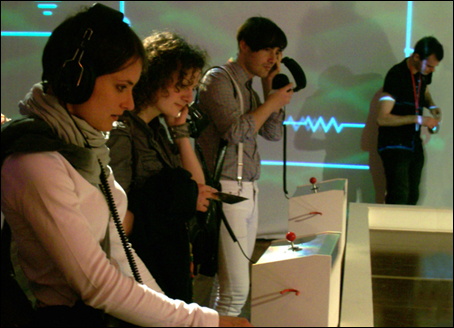 29th September 2010
Penguin video, and some old photos from work on Antony Gormley's Blind Light installation
28th September 2010
Lots of new stuff coming up, involving some bananas and a lot of owls...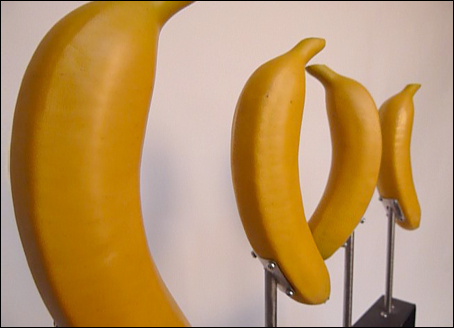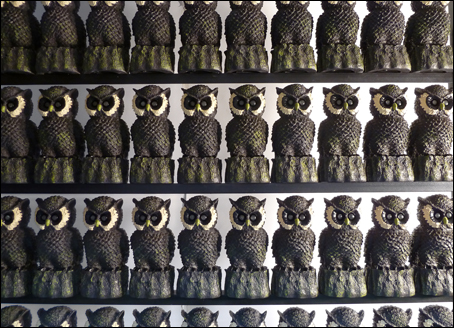 11th July 2010
Bicycle powered synthesiser - the Velotone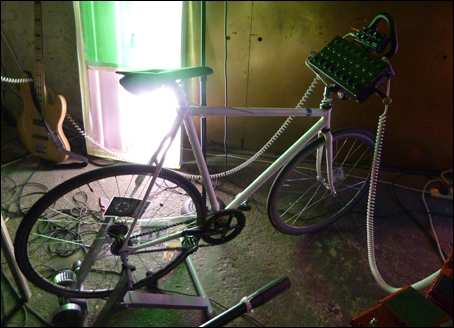 10th April 2010
Penguin on display at the Southbank Centre (Clore Ballroom) from Sunday 18th to Wednesday 28th April.

There will be a special performance around midday on the 24th, involving lots of interesting equipment - hope you can make it!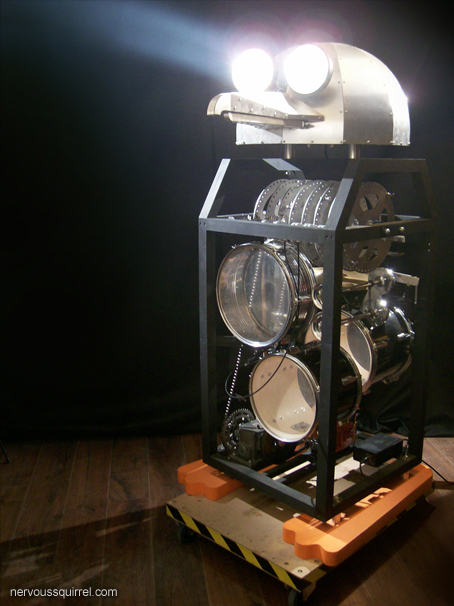 1st February 2010
New project - Marvin the Robotic Penguin
16th January 2010
A rare chance to see Nine Owls in a Baguette this Friday 22nd January at Corsica Studios.

There will be strange costumes and even stranger sounds, with home-made electronic instruments and owl masks.
13th December 2009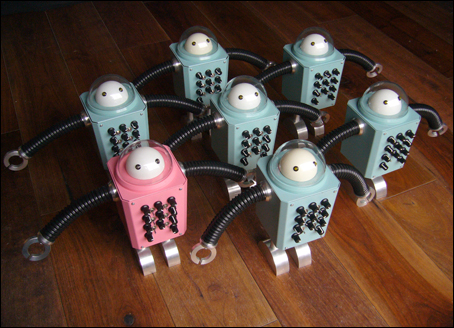 29th November 2009
Visit to Jean Tinguely exhibition
14th November 2009
I have just made a remix for my good friend DJ Urine, who makes fantastic music by gluing together sections of different records and playing them on up to six turntables simultaneously.

The album also has a remix by DJ Scotch Egg and other interesting people, and is available to buy on vinyl here.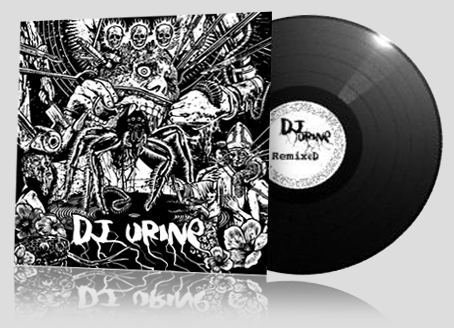 11th October 2009
Ralph the Robot (prototype preview)
3rd October 2009
Sonic Explorations workshop - children playing the musical stepladders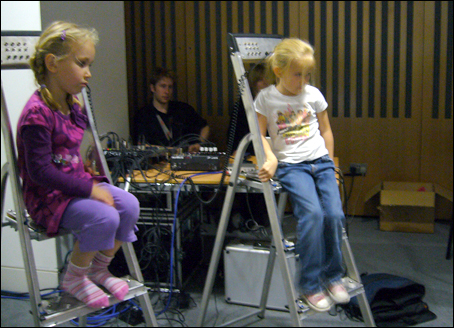 5th July 2009
Casio SK-5 with CGS/Steiner Synthacon filter
7th June 2009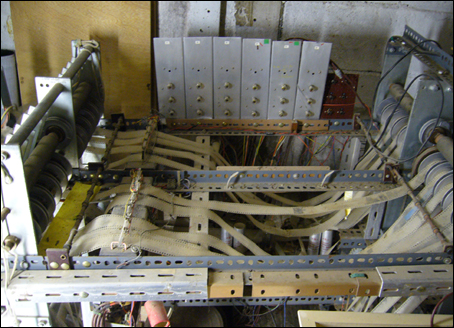 4th June 2009
14th March 2009
Another modified Roland TR-505 drum machine
17th February 2009
Nine Owls in a Baguette perform 'A Recipe for Disaster', an opera in roughly four parts, live at Cafe Oto, Dalston.
10th February 2009
Joe Henson's Tweed Runner machine completed today - construction details and video here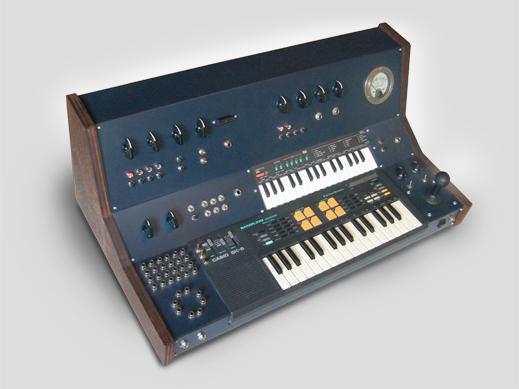 6th February 2009
Thorpe Park ride and scenery restoration - painting Happy Halibuts in the snow.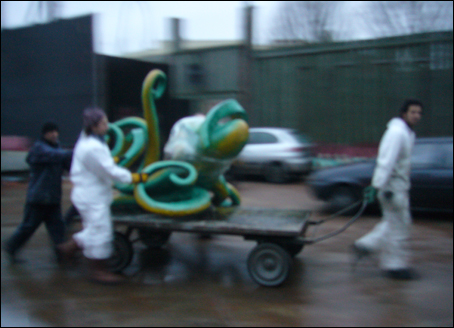 25th January 2009
NewSound audio newspapers - collaboration with the London Sinfonietta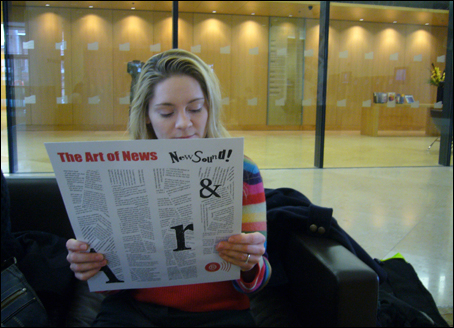 10th November 2008
Finally managed to start making a modular synthesiser - hooray!

You can buy PCBs to make your own from www.musicfromouterspace.com

The power supply is from www.synthesizers.com
October 2008
September 2008
A rather excellent band called Mucky Sailor have asked me to make a musical ship's wheel for them - click here.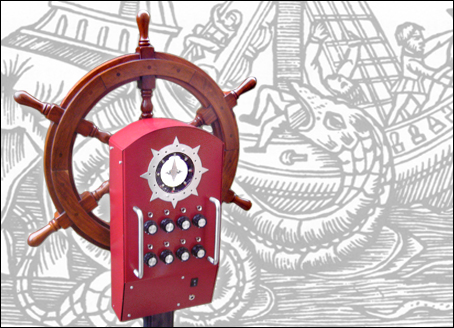 September 2008
Huge mechanical LED sculpture constructed at the workshop of 2D3D Ltd.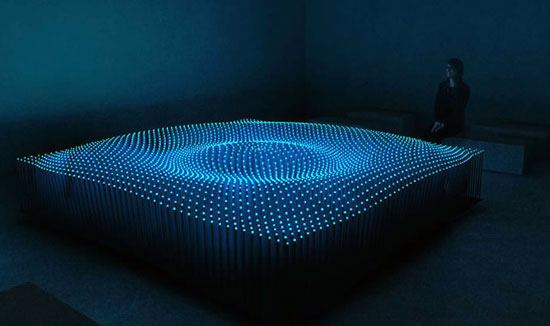 9th July 2008
Just received an exciting new commission from Joe Henson (www.joe.hensonmusic.com):

"I am looking for: Sweeps Bleeps and Beats, and maybe voices... Anything that could be in the film Brazil... I want to live in the land of Blade Runner but in Britain.... in tweed."

And so the Tweed Runner project was born. This page will be updated as the project progresses.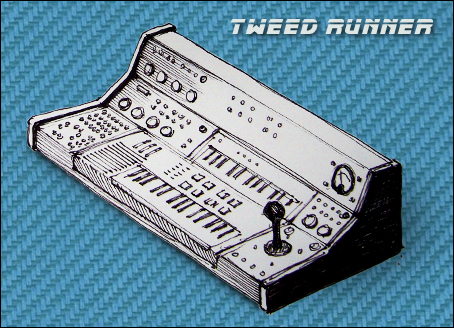 6th July 2008
Three performances in one week from Naked With Horses side project Nine Owls in a Baguette - click here!
10th June 2008
Finished the speaker brackets for Kaffe's Marvelo bikes - click here.
11th May 2008
Future Music have just published a rather nice article about some of the stuff I've made. Click here to read.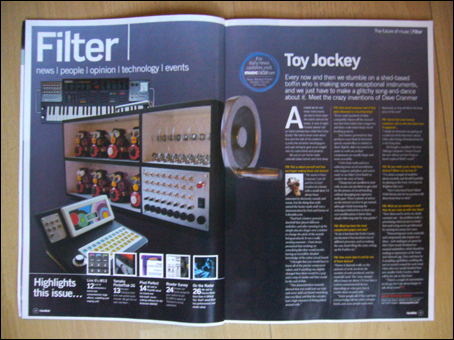 10th May 2008
Just started some work for sound artist Kaffe Matthews - brackets to attach speakers to six bicycles. Check out The Culture Show on BBC2, June 17th.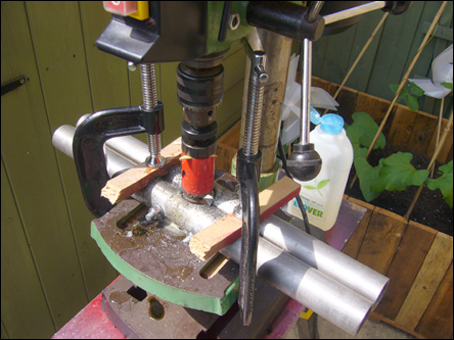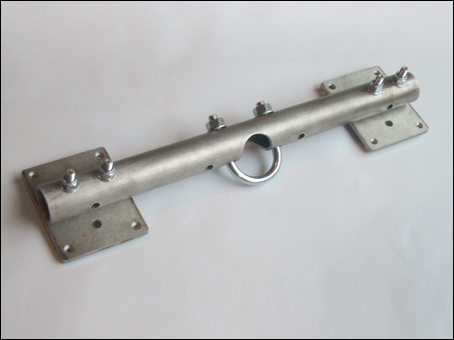 20th April 2008
Four new Furby Gurdies! Sound files and more details on the way...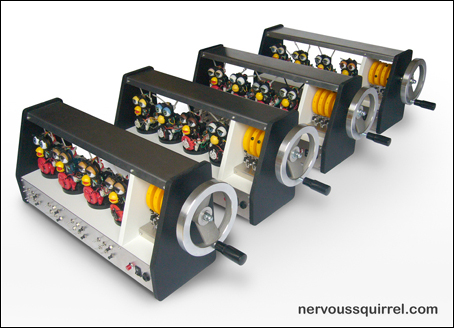 24th March 2008
Some characters for a gig at The Others, Stoke Newington, London. L-R: 'Monsieur Hibou', 'Dr. Sandfax' and 'Rod Hull 3000'. Dr. Sandfax is named after a fax machine made on a beach near La Rochelle.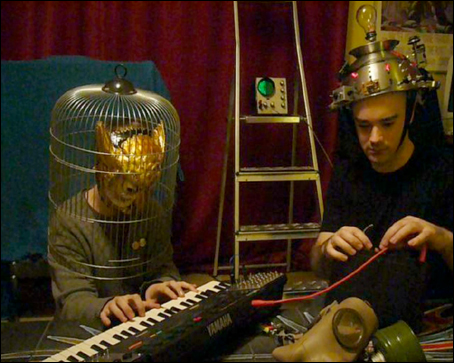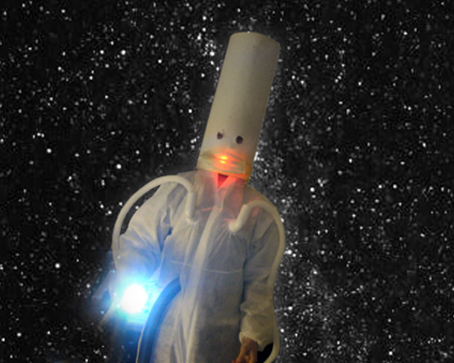 (home)